The Basics
Articles on basic care and considerations for new or prospective owners.
Articles pertaining to health, nutrition, and veterinary care.
Articles and pictures about hedgehog breeding, growth, and development.
Articles for people who already own a hedgehog or want to know more than just the basics.
Learn more about hedgehog shows and hedgehog colors!
Wondering where on earth to buy a hedgehog? Start here!
Where to purchase hedgehog supplies and collectibles.
Meet the hedgehogs of Hedgehog Valley!
Meet the other critters that call Hedgehog Valley their home!


Small Animal Care Fair
Hedgehog Valley and Daisy Meadows Hedgehogs went to the Small Animal Care Fair at Wayside Waifs Animal Shelter on March 31st, 2001! It was a small but well attended event, and we got to show the hedgehogs off to lots of intelligent, interested people! Events like this are a great opportunity to teach people about hedgehogs!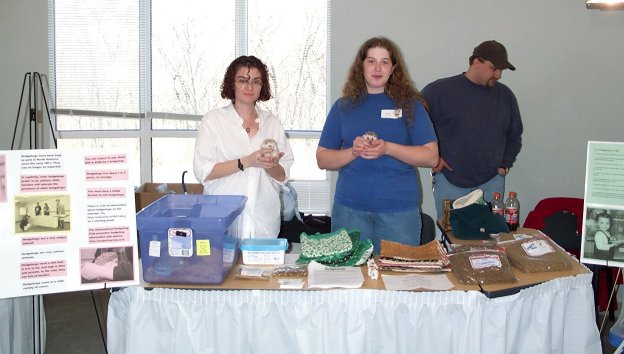 In the photo above, Tig Means (left) and Becca Loane (right) show off the hedgies! We had posters that told people about hedgehog care, handouts on hedgehog care, and examples of hedgehog supplies- food, hedgebags, treats, etc...! Tim Loane is in the back, right.
Two and a half year old Persephone is fascinated with the BIG rabbits that were across the room from us. One of them is a Flemish Giant, not sure on the other.
Above is the token bad picture, when we first arrived... Zury is in the stroller, Tig bending over, Tim seated, and half of Becca on the right!
Antigone Means-Burleson
Iola, KS
Show them you care, Support our Troops
All information on this web site is copyright of Hedgehog Valley®. You may view/print the web pages for your personal use. You may also provide a link to these pages without prior approval. No one is allowed to re-post the information from Hedgehog Valley® Web Site, including pictures, to any other web site, without the approval of Hedgehog Valley®. Copyright 2002

This page last updated by Tig on 02/19/02