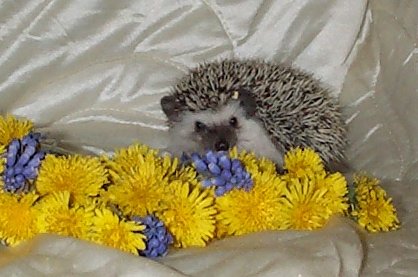 Hedgehog Show and Color Articles
Our Articles
Shows
What to expect at a Hedgehog Show
Learn more about what happens!
Health and Hygiene at Hedgehog Shows
Extremely important to know before you go
Pictures from the Denver '01 Hedgehog Show
Pictures from the Iola '01 Hedgehog Fest
Another place to show off hedgies
See the festivities!
See the pictures of this great event!
Don't miss the pictures of the people who ate worms for a good cause!
Colors
It isn't always as easy as you'd think...
Pictures of our hedgies- they are labeled by color to help you
We had a great time, see how much fun we had and you won't want to miss the next Iola show!
Sadly, we have ended our affiliation with the International Hedgehog Society and International Hedgehog Registry as we believe that they have treated ourselves and other members in an unprofessional and unethical manner.
Other great sources of information
******
Antigone Means
Show them you care, Support our Troops
All information on this web site is copyright of Hedgehog Valley®. You may view/print the web pages for your personal use. You may also provide a link to these pages without prior approval. No one is allowed to re-post the information from Hedgehog Valley® Web Site, including pictures, to any other web site, without the approval of Hedgehog Valley®. Copyright 2002

This page last updated by Tig on 10/21/07