The Basics
Articles on basic care and considerations for new or prospective owners.
Articles pertaining to health, nutrition, and veterinary care.
Articles and pictures about hedgehog breeding, growth, and development.
Articles for people who already own a hedgehog or want to know more than just the basics.
Learn more about hedgehog colors!
Wondering where to buy a hedgehog? Start here!
Where to purchase hedgehog supplies and collectibles.
Meet the hedgehogs of Hedgehog Valley!
Meet the other critters that call or have called Hedgehog Valley their home!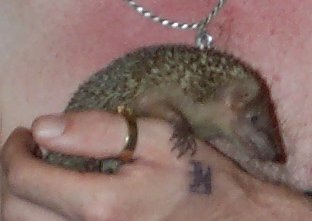 Grub's Page
Grub is a greater Madagascar hedgehog tenrec (scientific name setifer setosus). She came to live with us at the end of April, 2001 and is about a year or so old. She got her name because she is the most outgoing of our four tenrec and is always the first to the food dish! Grub was the first tenrec that we ever saw self-anoint. While they have this behavior in common with hedgehogs, they do it a little differently. Grub decided she wanted to anoint on an arm, and she licked and licked and licked. Then she spread the saliva on her hands and wiped it behind her ears and over her haunches. She repeated this several times before she stopped and then cuddled up in safe hands and fell asleep!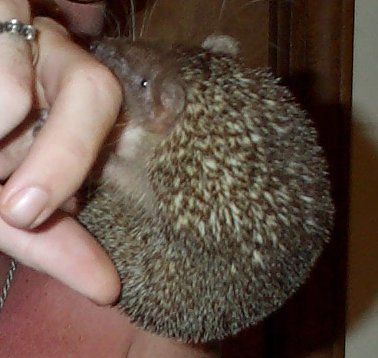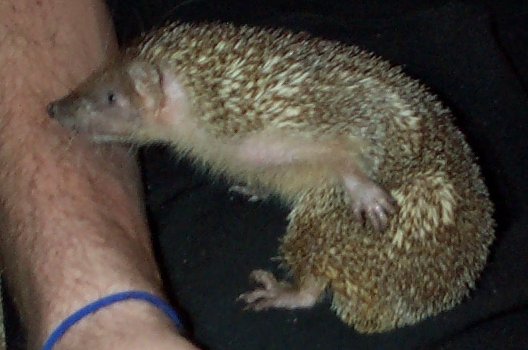 Antigone Means
Iola, KS
All information on this web site is copyright of Hedgehog Valley. You may view/print the web pages for your personal use. You may also provide a link to these pages without prior approval. No one is allowed to re-post the information from Hedgehog Valley Web Site, including pictures, to any other web site, without the approval of Hedgehog Valley. Copyright 2002

This page last updated by Tig on 11/10/18