The Basics
Articles on basic care and considerations for new or prospective owners.
Articles pertaining to health, nutrition, and veterinary care.
Articles and pictures about hedgehog breeding, growth, and development.
Articles for people who already own a hedgehog or want to know more than just the basics.
Learn more about hedgehog shows and hedgehog colors!
Wondering where on earth to buy a hedgehog? Start here!
Where to purchase hedgehog supplies and collectibles.
Meet the hedgehogs of Hedgehog Valley!
Meet the other critters that call Hedgehog Valley their home!


Everything I Need To Know In Life, I Learned From A Hedgehog
Today I was taking pictures of one of my elderly hedgehogs (Puck, who is a bit past 4-1/2) and my daughter (Persephone, age 2), and it made me start thinking of just how much I have learned from my prickly buddies, and all that they have to teach my human children. For example, I am constantly amazed at the range of emotions that hedgehogs can express. They don't beat around the bush; they tell you directly if you upset or scare them (fuff fuff fuff!!!), and they let you know when they are comfortable with your behavior by relaxing their quills and trusting you.
They teach you to slow down and take life at a calm pace and have confidence in yourself, because it makes them calm to be around a calm, confident person. I swear hedgies have radar for people who are anxious about holding them, and they also learn who will call their bluff. Hedgies eat what bugs them, and while human beings can't necessarily do that, it sure makes a great slogan!
Hedgies teach responsibility, because you have to clean their cages, meet their special dietary needs, keep them warm enough, and give them lots of love. They teach you what it is like to be different, because they sure aren't the standard pet in most households! They teach you that there are creative solutions to every problem (like how to escape the cage to get in with that hottie in the next one...). The lessons are endless, if we just take the time to learn. =)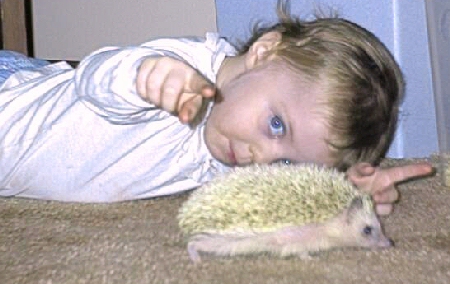 Antigone Means-Burleson
Iola, KS
Show them you care, Support our Troops
All information on this web site is copyright of Hedgehog Valley®. You may view/print the web pages for your personal use. You may also provide a link to these pages without prior approval. No one is allowed to re-post the information from Hedgehog Valley® Web Site, including pictures, to any other web site, without the approval of Hedgehog Valley®. Copyright 2002

This page last updated by Tig on 02/19/02