The Basics
Articles on basic care and considerations for new or prospective owners.
Articles pertaining to health, nutrition, and veterinary care.
Articles and pictures about hedgehog breeding, growth, and development.
Articles for people who already own a hedgehog or want to know more than just the basics.
Learn more about hedgehog colors!
Wondering where on earth to buy a hedgehog? Start here!
Where to purchase hedgehog supplies and collectibles.
Meet the hedgehogs of Hedgehog Valley!
Meet the other critters that call or have called Hedgehog Valley their home!


Bearded Dragons
The bearded dragon is an amazing lizard! My friends had been telling me for a year or two what wonderful critters they are. I looked at the pictures and went, "Hmmm..." but resisted the urge to see one for myself. Then we went to visit Jessica Elrod for the Denver hedgie show in '01, and Jess introduced my ex to her beardie. I just saw him from a distance, but my ex kept going on about how cool he was, how wonderful his personality.
I listened to this for about a month and had been reading up on them. Then we found ourselves at a reptile expo in Kansas City. I went looking for a tortoise, but they were all sold out by the time we got there. I still wanted to talk to folks about leopard geckos and my ex kept looking at the juvenile beardies. Yes, they were definitely cute, but not enough that I was ready to commit. I was talking to a guy about his leopard geckos and out of the corner of my eye I noticed a sterlite shoe box with air holes in it and a small sticker with the male symbol and the words "3 legged beardie." I asked if I could look.
The guy got out the beardie, and I took him in my arms. He snugged down like he was home, and that was that. We walked out with Lance shaking his head and saying, jokingly, "... all these critters and you buy a 3 legged dragon?!" We tossed around names and decided on Jambo- a combination of jamb (French for leg) and jumbo (for his size- he's a big boy).
Jambo has turned out to be an absolutely wonderful companion for our family and sometimes accompanies me to work where he is happy to help out as a therapy lizard. He has been joined by three other beardies in the family, a tiny beardie named Minerva, and two quickly growing ladies named Hessian and Sienna.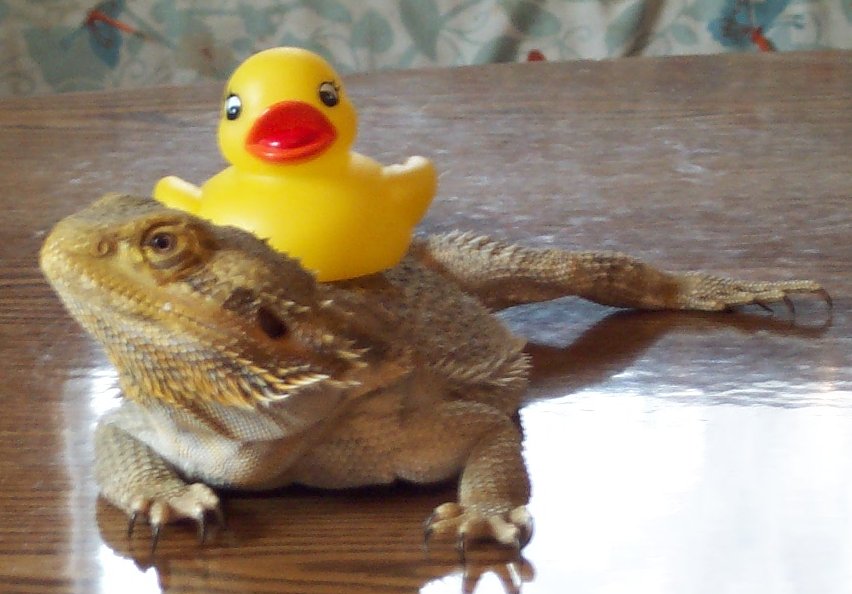 Jambo poses with a "friend."
Think anybody will realize it's not the Easter bunny?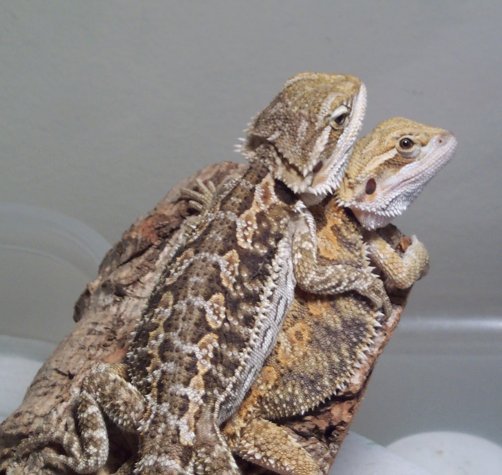 Sienna (left/top) and Hessian (right/bottom).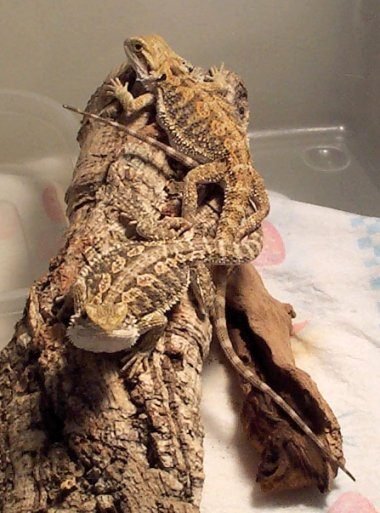 Now where's that cricket?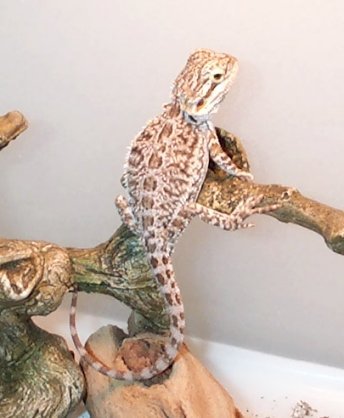 Little Minerva
Fast forward to 2018, my son now loves beardies and we are currently owned by a lovely beardie lady named Esmerelda, who came to us by way of his 9th grade science teacher who was moving and noticed how attached Esmerelda and my son had become!
Antigone Means
Iola, KS
All information on this web site is copyright of Hedgehog Valley. You may view/print the web pages for your personal use. You may also provide a link to these pages without prior approval. No one is allowed to re-post the information from Hedgehog Valley Web Site, including pictures, to any other web site, without the approval of Hedgehog Valley. Copyright 2002

Last updated by Tig on 11/10/18