The Basics
Articles on basic care and considerations for new or prospective owners.
Articles pertaining to health, nutrition, and veterinary care.
Articles and pictures about hedgehog breeding, growth, and development.
Articles for people who already own a hedgehog or want to know more than just the basics.
Learn more about hedgehog shows and hedgehog colors!
Wondering where on earth to buy a hedgehog? Start here!
Where to purchase hedgehog supplies and collectibles.
Meet the hedgehogs of Hedgehog Valley!
Meet the other critters that call Hedgehog Valley their home!



Preparing Hedgehogs for Air Travel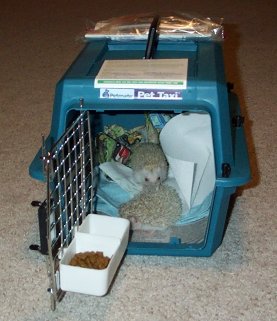 Many hedgehog owners are quite dismayed to learn that most airlines will not allow their hedgehogs to travel with them in the airplane. What the airlines do offer is the opportunity to travel the same flights, in cargo. For many people, this conjures images of gorilla-stomped luggage, extreme cold, and things you just basically don't want to subject your pet to. The reality of pet travel in cargo is quite different.
When animals travel in air cargo, they are in a section of the plane that is controlled for temperature and pressure, just like the part of the plane that humans ride in. This is why the smaller planes can't carry animals- they just aren't equipped. Only 3 kennel cabs are allowed on the plane, to reduce the stress of traveling in the company of a bunch of other unfamiliar animals.
Airlines who ship animals are required to meet very strict standards of care. Animals have to be offered food and water ever 4 hours and if layovers are longer than 4 hours, the animals must be routed to a kennel. They must be kept in appropriate temperatures during layovers and airlines are only able to accept animals for shipment if the temperatures are within certain parameters, roughly 45 to 85 degrees, unless they have temperature controlled vehicles for transporting from plane to cargo area.
In addition to knowing the rules that the airlines follow, it is important to know what you need to do, in order to ensure your hedgehog's safety if you decide to let hedgie travel in air cargo.
The first thing that you need to do is make sure that your hedgehog is healthy enough to travel by visiting your veterinarian to obtain a health certificate. The certificate needs to be no more than 10 days old at the time of travel. Here is what a health certificate looks like (personal info has been whited out).
Next, you need to purchase an IATA (International Animal Travel Association) approved kennel cab. The tag will say airline approved or IATA approved on it. The picture below shows the things you need to set up the kennel. When we are able to get them at a reasonable cost, we prefer to use the Taconic transit cages as they are more secure and comfortable for small animals. Click here to learn more about them.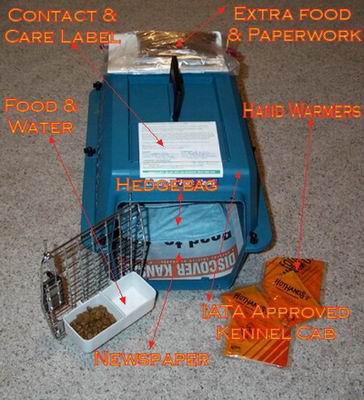 The following items, noted in the picture, are recommended or required:
1) Attached food and water dish: Needs to attach inside, as water bottles attached from the outside are awkward and can fall off in travel. Put just a little water in the dish, they'll add more every 4 hours.
2) Hand warmers: If temperatures are cool, I activate one or two of these and put them under a layer or two of newspaper to help hedgie stay cozy.
3) Newspaper: Hedgie needs an absorbent flooring material that won't get all over the place. Newspaper works great.
4) Hedgebag: This provides a safe, cozy place for hedgie to burrow during travel.
5) Contact and care label: This is a label that the airline will supply you with if you don't get one with the kennel cab. It tells them who is shipping and receiving the hedgie, as well as any special instructions for feeding or watering.
6) Extra food and paperwork: I put an extra copy of the health cert, a ziplock with about 8 oz. of food, and anything else the hedgie will need in a larger ziplock and tape it to the top. Keep the original health certificate to give to the shipping agent because they will need a copy for their records.
7) Side labels: These aren't pictured because you can't see the sides, but... Even though it's obvious from the shape of it, labels on at least 2 sides saying "Live animal" are required. Make sure the arrows point up.
Once all these things are ready, your little traveler (or travelers) are ready to settle in! When you book your hedgie's flight, make sure to find out where you will check in your hedgie. Sometimes it's at the ticket counter, sometimes at the baggage counter, and sometimes at the cargo facility. The cargo facility is usually located near but not in the terminal. Below is a picture of the Northwest cargo facility at Kansas City, MO.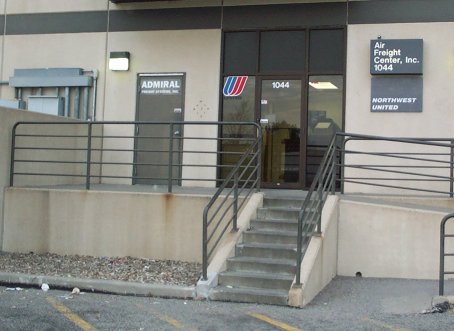 The next picture shows what it looks like at the counter.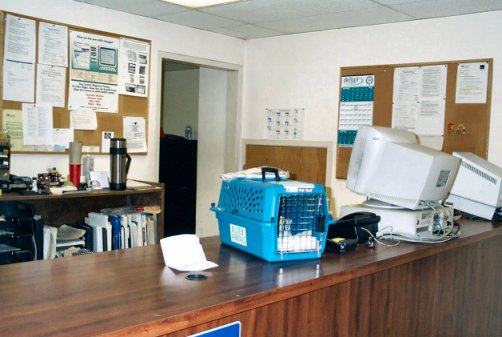 They will ask you for the health certificate, check your photo ID and have you sign that it really is your ID, and manually inspect the kennel. Then, you pay and they take care of your precious cargo until they are picked up at the other end!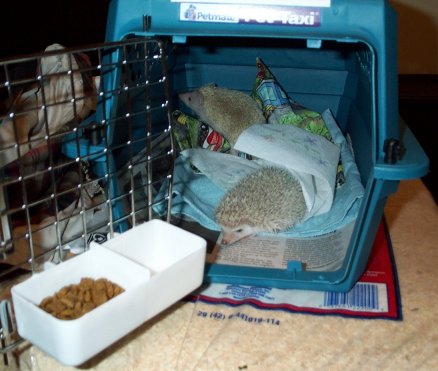 Antigone Means-Burleson
Iola, KS
Show them you care, Support our Troops
All information on this web site is copyright of Hedgehog Valley®. You may view/print the web pages for your personal use. You may also provide a link to these pages without prior approval. No one is allowed to re-post the information from Hedgehog Valley® Web Site, including pictures, to any other web site, without the approval of Hedgehog Valley®. Copyright 2002-2003

This page last updated by Tig on 12/27/03